"Education is for improving the lives of others and for leaving your community and world better than you found it". Keeping this in mind, Lakshmi Garden Matriculation Higher Secondary School was started in the year 2007 in the heart of Vellore, to meet the growing need for an outstanding educational institution. What started as a humble beginning with a handful of students and teachers has today grown into a big family with more than 1500 students and 70 teachers.
Uniqueness of the school
With the motto 'Learning for Life', Lakshmi Garden aims to give each child an eagerness to learn not just while on campus, but all through life. Our main focus is our children. They are the ones that make a school. And so we aim to enable all children to have the opportunity to achieve their best academically, emotionally and socially. We believe in the power of a collaborative approach to education. In today's highly individualistic society, we have lost sight of the benefits of working and learning from each other. At Lakshmi Garden, each child is imbibed with a sense of belonging to a greater community while their individual contributions are valued and cherished. We provide the child with a stimulating and safe environment to explore and express their ideas. The value of togetherness is taught without compromising on maintaining and respecting their individuality. Every student is unique in his or her strengths and challenges. Our dedicated staffs focus to keep this in mind when dealing with each child. We aim at keeping our children active, responsible and caring members not just of the school but the wider community.
Academic approach
We offer an excellent education in an outstanding environment with well trained and motivated teaching staff. Our teachers are highly dedicated and constantly working with the management to impart quality education to our students. We provide high-quality learning to enable children to acquire the skills, knowledge and concepts relevant to their future. Learning from outside the text book is encouraged. By following the Continuous and Comprehensive Evaluation pattern of education the student is evaluated on a range of activities in addition to summative assessments.  This includes projects, charts, model-making, games, science experiments, role plays, debates, group discussions among many others. This gives the student an opportunity to develop his or her creative and mental skills and thereby attain a holistic attitude and become responsible citizens. Team work and collaborative learning are actively encouraged. Students are taught to care, respect and support each other. Regular parent-teacher meetings are arranged for parents to keep a track of their child's over-all development.
Student Life
John Dewey said that "Education is not preparation for life; education is life itself". Keeping in line with this and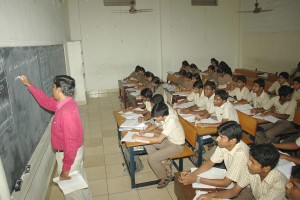 the motto 'Learning for Life', Lakshmi Garden aims at giving its students the best life while they are within her portals. They learn through a wide variety of activities, both curricular and extra-curricular, thus moulding them into smart young men and women. A variety of Language Development classes, music sessions, Cookery classes and other activity classes teach them the essentials of life and also bring out the best in them. Regular assemblies with meaningful messages not just motivate them but also teach them to be more disciplined in all walks of life.
The Inter House Activities play a big role in their student lives while at Lakshmi Garden. Irrespective of their class and gender, children are given equal opportunities to participate in a wide variety of activities ranging from singing, dancing, acting, debating, public speaking, drawing and creating. This not only brings out the talent in these blooming buds but also instill a sense of confidence in them. Through these activities, they learn the importance of team work and co-operation and it becomes a part of them. The annual Cultural programme and other celebrations give the children an opportunity to show-case their talents and also brings out a sense of pride for the school and its traditions.
The student body plays a role in building a bridge between the management and the students. While developing high-quality leadership skills, they also help in keeping their fellow students together.
Lakshmi Garden is proud to boast about district ranks and students who have stepped into prestigious institutions in the country and abroad. Our students have also excelled on the sports field and won many laurels at the district and national level and are currently aiming the international courts.
A child spends a good part of his or her growing years in school. The moulding received during these years is very crucial and takes them a long way. All this goes to show that this abode of education is not merely a school but a place where learning is for life and where learning is fun.
Academic Achievements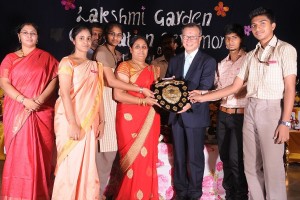 The perseverance and meticulous endeavour of our diligent students and the dedicated planning and commitment of our teachers are brought to limelight through the academic achievement of our X & XII toppers year after year.
Truly it has been a joint effort for in the words of William Blake,
No bird soars too high, if it

Soars with its own wings
Competitions
Integrated education being lakshmi Garden's watchword – students are encouraged to take part in an abundance of activities at the inter-school level like – debate, quiz, elocution etc which come together in a Kaleidoscope of creativity that empowers our students to see beyond subject boundaries.
Every generation has its own defining qualities. Some equate success with being famous, others with being rich & some at excelling in their chosen field
The avenues & opportunities open to the young ones have multiplied but so has their drive to succeed.  We applaud these young achievers.  The ability to analyse and think differently is what makes them special in this competitive age.
Celebration
Life is a celebration of awakenings of new beginning and wonderful surprises that enlighten the soul
A wide range of school functions and programmes are regularly organized to provide a stimulating environment that give wings to the divine fine within each learner and fill the world with the glow of its goodness.
Library Week
Reading is dreaming with open eyes
Lakshmi Garden has a well stacked library with more than 15000 books.
To instill the habit of extensive reading library weeks is celebrated in the campus and students of grades VI – VIII are involved.  Competitions like Design a Cover, Write about your favorite author or favourite character are organised – winners are honoured with cash prizes.
Joy of giving Week
What are we here for, if not to walk with each other along life's journey?
asked martin Luther King.
Lakshmi Garden encourages its students to follow policy of share and care.  The joy of giving week celebrated every year receives an overwhelming response from the student as they willingly donate things for less privilege children.
The best way to find yourself is to loose yourself in the service of others.
Lakshmi Garden believes is training its students to serve others especially those who are in need.  The commitment of this institution to the society is evident through the charity support and help extended by our school.
Visit to the orphanages, old-age homes, Government aided schools is a regular event every year in Lakshmi Garden.  Students get to interact with inmates and students and become more responsible towards the society.
Career guidance programmes and counseling sessions (for Higher Secondary Students)
William Shakespeare said,
Life is a tale told by an idiot,

Full of sound and fury – signifying nothing
We beg to differ we feel everything that makes life worthwhile, comes from a good, positive attitude.
We realize that it is imperative for students to identify their aptitudes, interests, career goals and aspirations in order to make well – informed decisions concerning higher education and for this they have to be mentally strong & focused with a positive approach towards life.  Keeping in mind the need of the hour several counseling sessions are organised in the campus.
To keep the students abreast of the growing opportunities and avenues of employment Lakshmi Garden is partnership with the leading publishers of India – Rathna Sagar organizes Career Guidance Programme every year for the students of grades XI & XII and their parents.